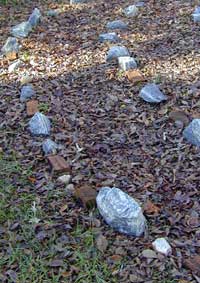 Rows of ragged rocks outline a path for healing?
Brown, decaying leaves hug the winter ground – a blanket to transform?
The labyrinth awaits the sojourner--
almost calls her name--
Will you enter my simple boundaries
and journey my paths
One Step at a Time?
Straight ahead, yet winding and crooked
The curled road beckons to be trod --
reinforcing the uplifted
blessing the downtrodden
Maybe tears, maybe joy, maybe peace
One Step at a Time.
All who are heavy laden, come stand at the gate
All who are fragmented, place one foot down
and the other in front
All who find wonder in the commonplace,
Come travel the narrow rows
One Step at a Time.
Give up your burdens, your middle of the night worries
Lay a care on a silver, craggly rock as you pass
and move on to the next,
the monotony will soothe you
One Step at a Time.
Moving inward,
The trail winds in and out
Muscles untensing,
The walker's job seems easy,
The cares tumble down
and hit the ground with imagined force
lightening the load on contact
One Step at a Time.
Step 48, step 49, many more follow
while curling toward center like a
snail into its shell
Motionless at last,
a wooden cross is sighted,
God's presence overwhelms
and envelopes the inner sanctum--
His peace now a cloister
on the journey half over
One Step at a Time.

The pause to discover
new perspectives to ponder
fresh eyes, lightened heart
the world is a wonder
with steps unencumbered
the pilgrimage rewinds
One Step at a Time.
The breathing is slower
the feet touch down lower,
and easier on the road well-worn
The unknown, now familiar
the end is the beginning
the sad is now glory
All happening unexpectedly
One Step at a Time.
A twist inward
A transformation outward
A fresh view from fatigued eyes
All part of a simple design
of much complexity
with the whole greater
than the sum of the steps
All the while traveling
One Step at a Time.
Suzanne Moody
March 1999
Macon, Georgia
Copyright, 1999 Suzanne Moody, All rights reserved.